With more than 5000 individual Timeshare Resort Pages on TUG, users may want to notify TUG about small changes or updates to their home resorts that may not warrant a full Review of the resort in question!





Update Timeshare Resort Information!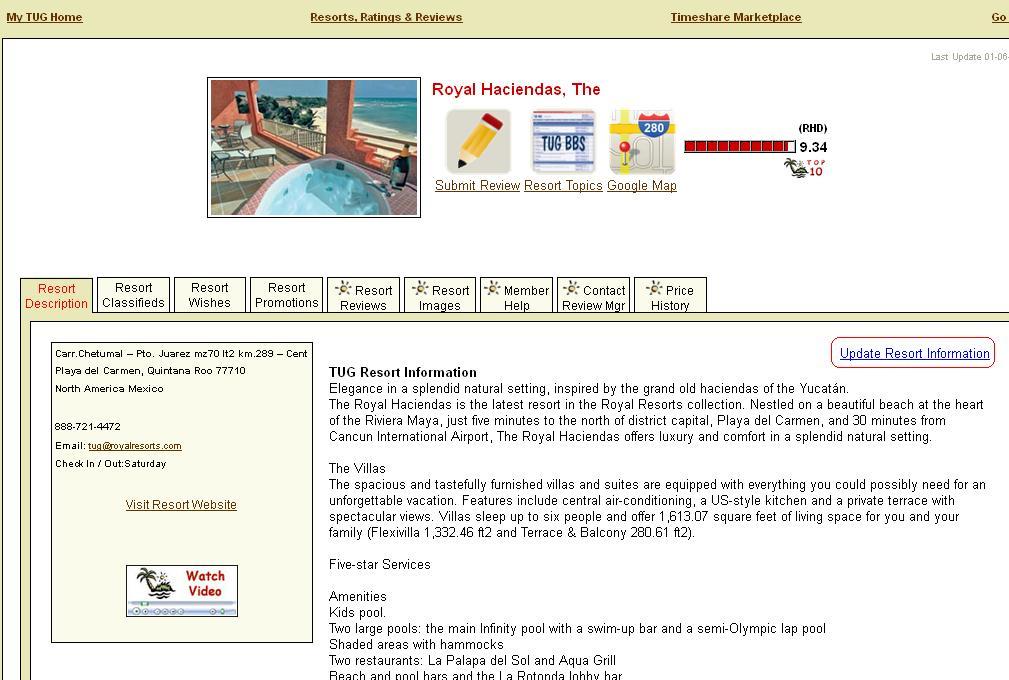 If you notice in the top right hand corner of the screen highlighted is a public link titled "UPDATE RESORT INFORMATION" that will allow you to send a note directly to the resort review manager responsible for maintaining this resort on TUG!
What if I am not logged in?
This link is open to the public, and a TUG membership is not required to use and submit these updates to the TUG Resort Review manager! We urge anyone who sees something on any resort review page that is missing, incorrect, misspelled, labeled wrong, etc to simply drop us a note using this Resort Update feature and we will get it corrected ASAP!
This is a great tool for resort managers/employees etc to use to ensure that TUG has the most accurate and up to date information available for your resort!




I don't want my contact info collected, I'm not clicking that!
This link does not ask for or require any personal information from you, in fact your contact info isn't even included on the notification sent to TUG. The message is generated within the TUG review system and a separate notification is sent to the Review Manager. We simply wanted to provide a quick and easy way for individuals browsing the TUG pages to send us notes if they found anything simple that needed updating!
Obviously more comprehensive reviews or updates for the resort should still be submitted using the TUG Resort Review submission page which is of course, limited to TUG members only!
What sort of updates are you looking for?
Anything you feel would benefit someone browsing TUG looking for information about a resort! The most common updates we get currently are:
email addresses (it still baffles me that all resorts don't have a readily available email address for questions)
phone numbers
check in/out times
construction beginning/ending
resort features added or removed (closed)
Internet access charges
parking fees
basically any resort information that would apply to most if not all guests!
Go here to find your Resort and update it now!
TUG Timeshare Resort Search
The Final Word!
TUG was founded on the concept of Timeshare owners helping each other, this tool was created to ensure that all that find TUG have a quick and easy way to update the information in the TUG Resort Database for any resort they choose! It is our sincere hope that TUGGERS find this tool useful, and use it regularly to make TUG better!




If you have more questions or want to search topics, be sure to register on our Timeshare Online Discussion Forums where tens of thousands of Owners and Experts ask and answer all Timeshare related questions! Registration and participation on the forums is 100% free!

TUGBBS Online Forums