What is my Timeshare worth & what price can I sell it for?
Unfortunately there is no easy answer to this question, and in fact the answer is of course going to be different for every single person who asks it. However with this article and owner can learn to determine the price and value of your Timeshare on the resale market for free! What we can provide you here at TUG to help you answer this question yourself, is listed below:
---
Online Timeshare Sales History
TUG released its new member only system and included with some other very impressive features included an integration within the resort review pages is now a detailed Sales History tab allowing any and all TUGGERS to get a detailed view of all sales history records for that resort right on the review page itself.

On top of this, since we had released the Timeshare Marketplace at the same time, we now take the data from completed listings in the Timeshare Marketplace, and automatically populate the Sales History tabs for each resort as they are sold! This combined with the entries from some very hard working TUG volunteers and their careful tracking of EBAY completed listings, the TUG sales history database now gets hundreds of new entries each month...it has become a leading source for owners to see what Timeshares have sold and rented for in the past!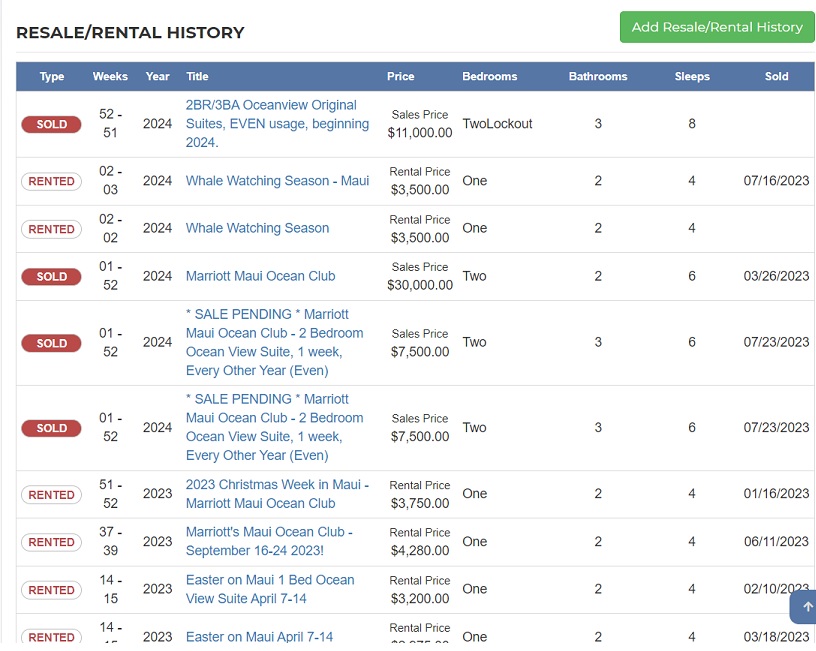 This of course is just one of the features provided to TUG members with their membership! an invaluable tool in finding out what your timeshare is worth! To look at other sales history records, you can go here to search for your resort:

---
Where else can I look up Timeshare Resale Prices?
It is extremely smart to search in multiple locations to find an accurate resale comparison for your Timeshare especially if one hasn't sold on TUG recently! We put together this walkthrough video guide that shows owners a quick and easy way to search for resale comparisons in less than a few minutes including how to search Ebay for completed listings as well!

Once you have established the price other owners are currently listing intervals at your resort for, you can make an educated decision on how to move forward with the resale process! As always, we provide a step by step guide for How to sell your timeshare yourself and avoid being scammed, this article is free and open to the public!

This is a detailed, step by step guide on how to get your timeshare sold yourself, for little or no cost to you...and more importantly...avoid being ripped off! This article discusses other options for obtaining an accurate resale price for your timeshare. This is a vital step in trying to sell your classified ad, as if you are attempting to sell your timeshare at an unreasonable price greatly above what other owners are listing the exact same thing for in the resale market, then you have little to no chance of selling your timeshare at all!

Sadly this is indeed one of the main reasons that timeshare owners experience EXTREME frustration in their attempts to sell their timeshare, as many simply just do not know how to accurately price their timeshare in the resale market and then fall victim to an upfront fee resale scammer who convinces them to pay a large upfront fee! This is so common there was an entire article written on this very subject more than 15 years ago, and can be read here: Number 1 reason you cant sell a Timeshare

Also of course one of the most common reasons why we hear the phrase "I wish I would have found TUG before I bought my Timeshare!"
---
The Final Word on what your Timeshare is Worth!
The most critical part of successfully selling your Timeshare is establishing a realistic resale price. One must actually pretend to be a buyer and look at the entire range of prices across TUG/Ebay/etc and remember that price is all that matters given the similarity between your unit and the next! Noone is going to look twice at an ad priced at $5000, when there is another one being offered for free by an owner who just wants out! For more detailed help and information on the resale market, be sure to visit the TUG : Buying Selling and Renting Timeshares forum