Timeshare Scam Retaliation Options for Owners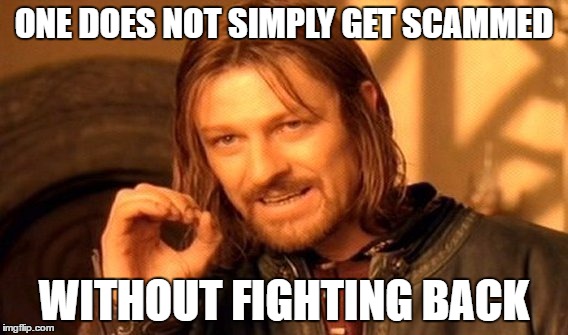 In the timeshare resale market today, it is pretty much a guarantee that you will encounter an upfront resale scammer if you are attempting to sell or rent your timeshare. Sadly these scams have become so popular, they are regularly listed in the top 10 scams by Attorney Generals offices and the BBB year after year!

Hopefully you have read the TUG Scams and Fairy Tales advice article, but if not and you are the victim of an upfront fee scam, your options are limited but they at least exist!
---
Step 1: Send a Letter demanding a Refund
In many cases, the squeaky wheel always gets the grease, so if you are persistent in calling and emailing and sending actual letters, you stand a chance of getting a refund!

This sample letter was provided by Judi Kozlowski, a licensed timeshare resale broker who has been in the industry for many years and fights to shut down these scammers with her organization the . Licensed Timeshare Resale Brokers Association

We urge anyone who is the victim of an upfront fee scam to follow all the steps detailed below after sending this sample letter if you do not receive your refund or a reply in a timely fashion!


Sample Letter to send to a Timeshare Upfront Fee scammer:
Dear (Insert Business Name Here),
We will be reporting you to the following people if you do not return our money. What you have done is fraud.
The Attorney Generals Office in (the State you live in), (the State the timeshare is in) and the( State the Scammer is in).
We are also calling the police in (same as above, both locations).
We are going to report you to our (VISA/MC/AMEX/Discover) and have them report your fraud to your merchant account.
We are going to the following sites to report your scam:
Every social media page we can find with your name on it (facebook/twitter/linkedin)
We do not want any phone calls from you. All we want is our money returned. You have lied, misled and committed fraud. We demand a refund to our credit card immediately and will be disputing this charge with them immediately.
note: While TUG certainly cannot guarantee the success or failure of the above letter, it certainly gives you an option in which to attempt to obtain a refund from the company that scammed you out of the upfront fee. The squeaky wheel gets the grease! Remember, these companies mislead and lied to you in the first place, if your initial request for a refund goes unanswered or is denied, this letter may be a last resort for you to get your hard earned money back!
---
Step 2: Contact your Credit card immediately and dispute the charge!
Many of these organizations will try to drag out the "process" for 60 to 90 days, knowing full well that after that period has expired, you have no option to dispute the charge with your credit card even if you know full well you have been scammed! Do not let this simple tactic rob you of one of the most effective ways to get your money refunded and immediately dispute the charge!
---
Step 3: Follow through with the reporting of the scam company to each and every one of the listed organizations in the sample letter above!
It is important at the very least to have your complaint on file with the AG's office in your home state and the scammers home state. The reason for this is if that AG actually does go after the organization, you can only obtain a refund if you file a report!
A more important reason to complete step 3 is that many of these scammers continue to exist merely because most people just give up and dont follow through with the reporting of the scam and thus they fly under the radar of most law enforcement agencies until enough people report the scam!

Remember that there are literally hundreds if not thousands of these Scam organizations out there, law enforcement simply doesnt have the time or resources to go after them all, so the ones with the most complaints are going to get the most attention!
---
The Final Word on Timeshare Scams!
These scams simply arent going away, they have been alive and well for as long as Timeshares have existed in the first place, they are so prolific because so many folks continue to believe the "too good to be true" pitches that these scammers have perfected over the years! It is truly our hope that everyone who reads this article will at the very least make an effort to obtain a refund and report these scammers to the authorities! They continue to exist because so many folks just give up!!!
Feel free to stop by our Timeshare Online Community Forums if you want to ask specific questions, with tens of thousands of Timeshare owners and experts, no question goes unanswered!