Bluegreen Vacations Timeshare Owner Information & Advice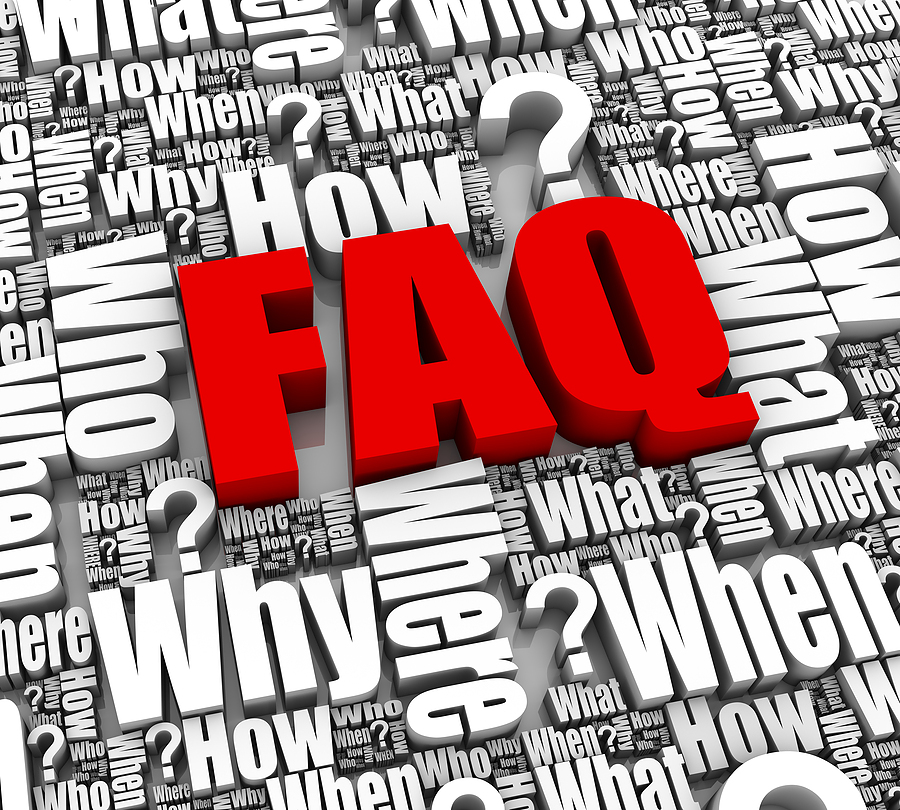 Formed in 1994 from a reorganization of Patten Realty, Bluegreen has grown to include more than 220,000 Timeshare owners and includes more than 60 Timeshare resorts in the US and Caribbean!


---
Click to View Ratings and Reviews of all Bluegreen Timeshare Resorts

Bluegreen owners have access to more than 60 resorts within the United States and Caribbean, Here is a list of all Bluegreen Resorts:
Alabama
Gulf Shores, Shoreline Towers
Gulf Shores, Paradise Isle Resort

Arizona
Peoria, Cibola Vista Resort and Spa

California
Big Bear Lake, The Club at Big Bear Village

Colorado
Aspen, The Innsbruck Aspen

Florida
Bradenton Beach, Via Roma Beach Resort
Daytona Beach, Daytona SeaBreeze
Daytona Beach, Dolphin Beach Club
Daytona Beach, Fantasy Island Resort II
Ft Myers, Tropical Sands Resort
Ft Myers, Windward Passage Resort
Ft Myers, Mariner's Boathouse & Beach Resort
Delray Beach (Gulfstream), Gulfstream Manor
Holmes Beach, Resort Sixty-Six
Marathon, The Hammocks at Marathon
Orlando, The Fountains
Orlando, Orlando's Sunshine Resort
Ormond Beach, Casa Del Mar Beach Resort
Ormond Beach, Outrigger Beach Club
Panama City, Landmark Holiday Beach Resort
Panama City, Ocean Towers Beach Club
Panama City, Panama City Resort & Club
Sanibel Island, Surfrider Beach Club
St. Augustine, Grande Villas at World Golf Village
St. Pete Beach, Bluegreen at TradeWinds
Surfside (Miami), Solara Surfside

Georgia
Marble Hill, Golf Club Villas at Big Canoe
Marble Hill, Petit Crest Villas at Big Canoe
Savannah, The Studio Homes at Ellis Square

Hawaii
Kapaa (Kauai), Pono Kai Resort

Illinois
Chicago, Hotel Blake

Louisiana
New Orleans, Bluegreen Club La Pension
New Orleans, The Marquee

Massachusetts
Dennis Port, The Breakers Resort
Dennis Port, The Soundings Seaside Resort

Michigan
Boyne Falls, Mountain Run at Boyne



Missouri
Branson, The Falls Village
Hollister, Paradise Point
Ridgedale, The Cliffs at Long Creek
Ridgedale, Wilderness Club at Big Cedar

Montana
Big Sky, Lake Condominiums at Big Sky

New Hampshire
Lincoln, South Mountain Resort

New Jersey
Atlantic City, Bluegreen at Atlantic Palace

Nevada
Las Vegas, Bluegreen Club 36

New York
New York City, The Manhattan Club

North Carolina
Banner Elk, Blue Ridge Village
Cashiers, Club Lodges at Trillium
Lake Lure, Foxrun Townhouses
New Bern, Sandcastle Village II
New Bern, Waterwood Townhouses

Pennsylvania
Hershey, The Suites at Hershey

South Carolina
Charleston, King 583
Charleston, The Lodge Alley Inn
Hilton Head Island, Players Club
Myrtle Beach, Carolina Grande
Myrtle Beach, SeaGlass Tower
Myrtle Beach, Harbour Lights
Myrtle Beach, Horizons at 77th
North Myrtle Beach, Shore Crest Vacation Villas I & II

Tennessee
Gatlinburg, MountainLoft
Pigeon Forge, Laurel Crest

Texas
San Antonio, Éilan Hotel & Spa

Virginia
Gordonsville, Shenandoah Crossing
Williamsburg, Parkside Williamsburg Resort
Williamsburg, Bluegreen Patrick Henry Square

Wisconsin
Wisconsin Dells, Bluegreen Odyssey Dells
Wisconsin Dells, Christmas Mountain Village

Aruba
Oranjestad, La Cabana Beach Resort & Casino
Bluegreen (BG) groups resorts into two classifications: Club Resorts and Club Associate Resorts. The vacation club owns weekly intervals at both types of resorts. Club Resorts are typically managed by Bluegreen Corporation while Club Associate Resorts are not BG managed. Most Club Associate Resorts have limited availability.
Bluegreen Vacation Club Overview
Bluegreen Vacation Club is an annual points based ownership allowing Bluegreen Owners to book stays at resorts within the Bluegreen Network.

Each Resort Villa is allocated a points value based on factors including location, seasonal demands, room size, and days of the week that stay is booked. Each of these factors will determine how many points are needed for any resort stay.

*Note that Resort units are valued for a 7-day week and for each day of the week. Although the individual daily values sum to the week value, each day of the week is not the same number of points. Friday and Saturday nights (Week-end values) are always a higher number of points than other days. Sometimes 25% or more of the weekly valuation. Sunday through Thursday values (Mid-week values) are less. Many owners stretch their points by making only mid-week reservations.

Bluegreen offers the option to stay at resorts for less than the usual 7 day/week long traditional Timeshare period and shorter stays are available at most resorts within the Bluegreen system.

Bluegreen Vacation Club is a points system based on trust funds. Points are generated from five trust funds, which are designated "A" through "E". Over ninety-five percent of all points are in Trust Fund E.

The following link provides a PDF guide for the 2018 point values for all Bluegreen Resorts and is a tremendous owner reference Bluegreen Owner Points Guide
Bluegreen Owner Overview
The following apply to all Vacation Club points, those purchased from the developer or from the resale market.

Overview
Bluegreen (BG) is a points based timeshare network. Annual Points have a use period of 12 months beginning on their anniversary date. The anniversary date is set as the first day of the month following the original purchase. An owner-member might, for example, have 20,000 annual points with an "earn date" of 1 September and an "expiration date" of 31 August the following year. Note: A free RCI weeks membership is included with your Bluegreen ownership

Reservations
A points reservation can be made for any season up to 11 months in advance of the desired check-in date. A minimum 2-night stay is required. Some resorts are designated "Club Affiliate" and may require a full-week stay. Although the date of making the reservation can be before the start of the use year, the entire stay must be completed before the points expire.

Cancellations
A reservation can be cancelled, with no penalty, within 1 business day of making it. It can be cancelled more than 10 days prior to check-in, with a full refund of the points, but there is a cancellation fee. A reservation cancelled within 10 days of check-in forfeits the points.

Modifications
Adding or removing days from a reservation requires cancelling and re-booking. A cancellation fee is assessed. There is a risk of losing the reservation.

Saving Points
Annual Points can be saved for an additional year. There is fee to save the points (currently, 2019, it is $60 to save points by phone or $50 to save them online). Saved Points can be used for reservations in red, white, or blue seasons only. (Many weeks are designated high red or ultra red.) Saved Points are also eligible for an exchange reservation with RCI up to 180 days in advance of the check-in date.

Borrowing Points
Borrowing allows points to be moved from their future use year for a reservation in the current year. By borrowing and combining points from two years, members can make reservations needing additional points. Maintenance Fees for the borrowed points must be pre-paid. Borrowed Points can be used for a reservation in any season.

Future Points
Future points are the points that will be awarded in the next use year. With these points reservations can be made in the future use year. In other words, the reservation checks-in day is on or after the date on which the points would be earned.

Biennial Points(every other year)
are earned every other year, or biennially. These points are added as two allotments on the earn date. Half the points can be used for the full two-year period, with no seasonal restrictions. These 2-year points are labeled Biennial Points. The other half of the points can be used, unrestricted, for a one-year period. These 1-year points are labeled Annual Points. Thus, in the first 12 months after the points' earn date, all of them can be used for an unrestricted reservation. In the second 12 months after the points' earn date, only half the points are unrestricted. Although the 1-year, Annual Points, can be saved into the second 12 month period, their use is restricted to only Red, White, or Blue seasons.

Priority Reservations
may be booked 13 months in advance of check-in day before the general 11-month reservations window. You must use the specific segment & unit number associated with your ownership. If Priority Reservations are not reserved in advance of the 11-month window, they are relinquished.

Each points contract is backed up by a specific unit and time segment. This is spelled out in our Certificate of Beneficial Ownership which we get instead of an actual deed. The unit is deeded to Bluegreen. Mine reads "The Hammocks at Marathon, 304HA/26." The thinking at Bg is that the "HA" means handicap accessible.

This means I have a right to unit # 304 during week 26. I can claim this at 13 months up until a few days before the 11 month mark. When I claim it, it uses all the pts associated with that Certificate. Some Priority Use Periods are as short as a one day day.


Bluegreen Owner Maintenance Fee Information
Maintenance fees for Trust Fund E are composed of two parts: a fixed base fee and a variable per point fee. In addition, each Vacation Club member is required to pay annual Club Dues. Fees for the 2018-2019 use year are:

Base fee: $373
Per point fee: $0.0641/annual $.03205/biennial
Club dues: $139

Biennial points are charged the same fees, annually, but the per point charge is assessed on only half the allocation.

The table below shows the annual rates since 2006-2007 along with an example of annual fees for 16,000 points. This value is the amount of points needed for a 2BR unit in high red season (prime time) at The Fountains Resort in Orlando.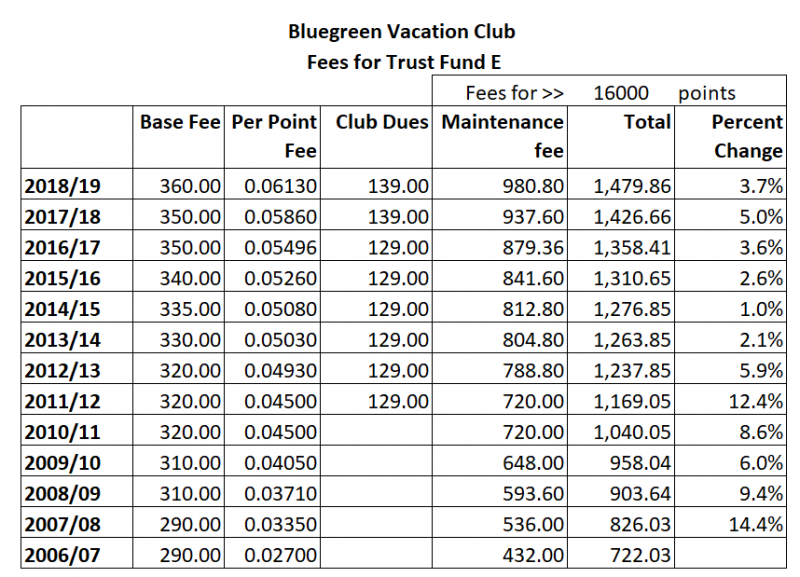 Buying Bluegreen Points?
For those interested in buying Bluegreen Points they have multiple options:

Buying Directly From Bluegreen
Buying Points directly from Bluegreen (also called Qualified points or Charter Benefits) is the most expensive way to buy into the Bluegreen System but provides you all the rights and privileges an ownership is entitled to within the system.


Buing Resale points from an existing owner
Bluegreen Points are regularly offered up on the resale market by existing Bluegreen Owners who have decided to end their ownership. These points (also called Unqualified points) can be bought on the resale market for practically 100% less than buying directly from bluegreen as many owners simply offer the points for free to any willing buyer who is willing to take on the annual maintenance fees on their behalf!

Note that the only significant differences in resale vs retail points from an owners perspective is the change in "Bonus Time" which for a resale buyer is ONLY available at your home resort vs all Bluegreen Resorts had you bought directly from the developer as well as regular resale points do not qualify you for Premier Status (bronze/silver/gold/platinum)


Buying Bluegreen Points from Pinnacle
There is a 3rd option available to those who wish to both save money compared to resale, and still purchase qualified points to retain charter benefits as if they bought new from the developer and that is buying from Bluegreens only authorized reseller Pinnacle Vacations note pinnacle sells both qualified and unqualified points, so be sure to verify before purchase.

These points are more expensive than buying directly from an owner, but far less expensive than buying directly from bluegreen itself. note that a common tip is to buy a small number of qualified points from Pinnacle to obtain charter benefits, then purchase any additional amount of unqualified points on the resale market to add to their ownership!

A fantastic detailed breakdown of Buying Bluegreen and the differences in retail vs resale can be found here on the Bluegreen Timeshare Secrets page, we urge anyone interested in owning in the bluegreen system check out this goldmine of information!
Selling Bluegreen Points?
For owners looking to sell their existing Bluegreen points, the same options above are available to them in that they can offer to sell or give away their points on the open resale market, or choose to sell thru Pinnacle Vacations. While the amount you are likely to get for selling is not likely to differ, pinnacle will charge far more for your timeshare to a buyer since it will retain its charter benefits when sold unlike selling yourself on the resale market, pinnacle just charges a significantly higher commission and closing cost compared to selling yourself. The net money to you is likely no different (ie 99% to 100% less than what you paid for it originally)
Bluegreen Owner Resources?
Bluegreen Owner Online Discussion Forum
A fantastic place to get help and advice from other Bluegreen owners 24/7! The TUG forums are free and open to the public!

Bluegreen Timeshare Secrets
A treasure trove of great information about the ins and outs of the Bluegreen System

Roadmap to Great Vacations
answers to common bluegreen ownership questions

Bluegreen Vacation Points Guide
Great publication from Bluegreen,

Ratings and Reviews of all Bluegreen Timeshare Resorts

Bluegreen Timeshares for Sale & For Rent by owner
Bluegreen Compared to other Point systems?
While all timeshare point systems use their own value for points, this chart is a great way to compare Bluegreen Points to other Timeshare point values for resort stays.

For example 25,000 Bluegreen points and 300,000 Wyndham Club Access points give their owners access to similar accommodations in terms of room size, season, etc.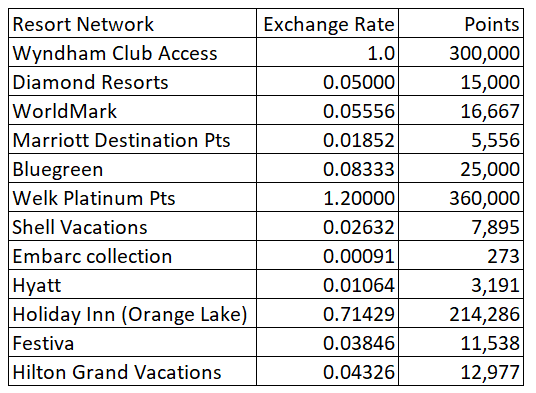 The Final Word!
Bluegreen is a flexible points Timeshare system that can be purchased on the resale market for next to nothing, thus making it a great option for new Timeshare owners!

As with any Timeshare we always urge owners to do as much research as possible prior to any purchase, as well as reading up on the TUG Bluegreen Owners forum to get help from thousands of other Bluegreen Owners who can give great help and advice 24 hours a day! Having the proper knowledge and information prior to making a purchase will ensure your Timeshare purchase is exactly what you were looking for without any hidden "gotchas"!