This page will serve as an instructional page on how to post a new Timeshare Marketplace Classified ad. I will be submitting a Regular For Sale - Fixed Week Classified ad in the example below.


Step1.
Point your web browser to the Timeshare Marketplace Homepage here:
http://tug2.com/timesharemarketplace
This is the TUG Timeshare Marketplace Homepage, all For Sale, For Rent, For Exchange, and Wish ads are placed here!



Step 2.
Click on "place new ad"
As you see highlighted in the Red Circle below, the PLACE NEW AD link is only available if you are logged in as a TUG member. Also note the difference between the CLASSIFIED ADs (want to sell, want to rent your own timeshare) and the WISH ADs (want to buy, want to rent someone else's timeshare) and ensure you are posting the correct ad type!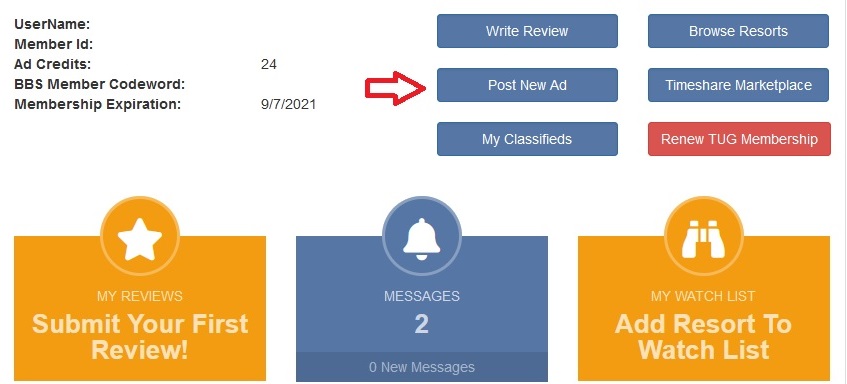 Step 3.
Read the Ad Section warnings and suggestions completely!
It really is recommended that you read these before you post any ad as they serve to protect you from scammers as well as learning the right way to sell your timeshare before you post your ad!
You must scroll down to the bottom and click "I have read and agree to these terms"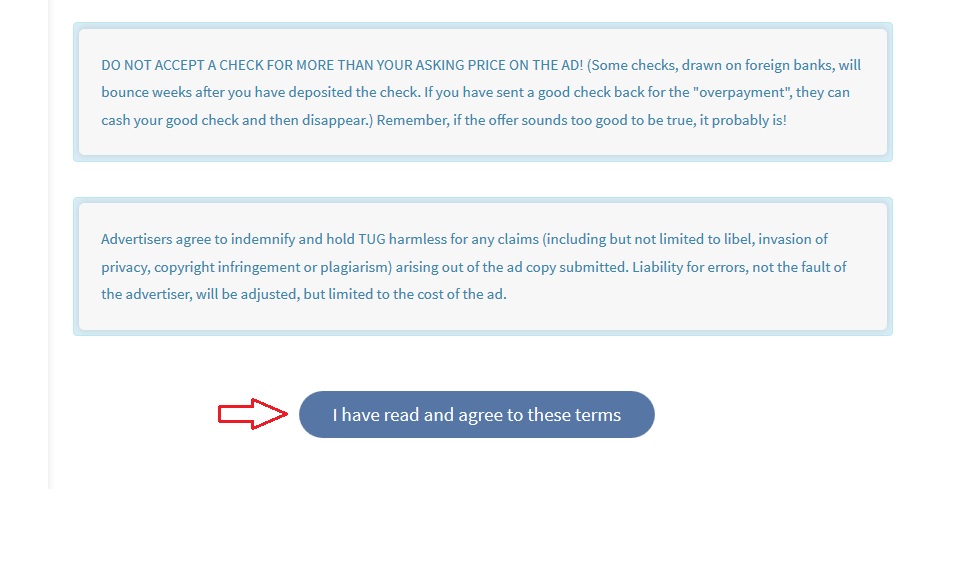 Step 4:
Choose your Ad type
You only have 3 options here: For Sale (you want to sell your Timeshare), For Rent (you want to Rent out your Timeshare), For Exchange (you want to exchange your Timeshare with another Tugger)
In this example I will use the For Sale option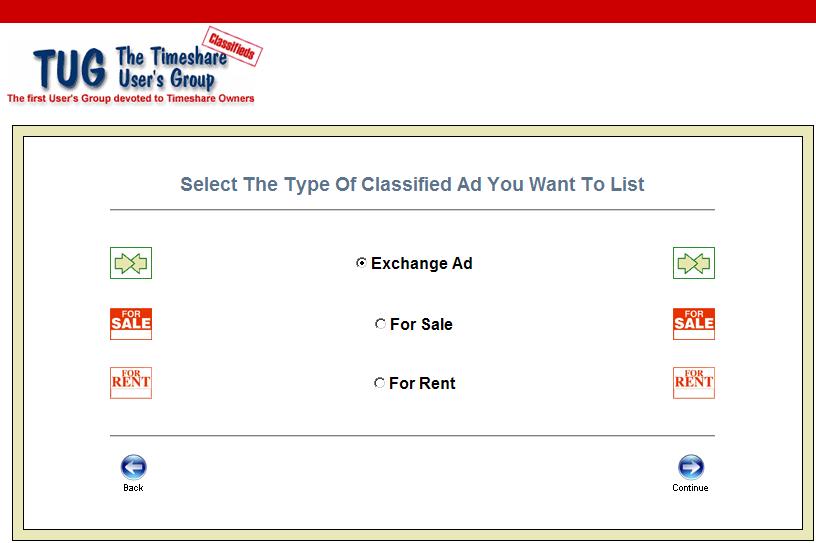 Step 5:
Contact Information
The only portion of this information that will be DISPLAYED on the ad is your phone number, and that is optional. Your email address WILL be hidden from public view.
This contact information is merely used to send you an email notification when someone contacts you about your ad. The actual message about the ad is stored on the TUG server, which you can access by logging back into the marketplace and clicking "view your messages"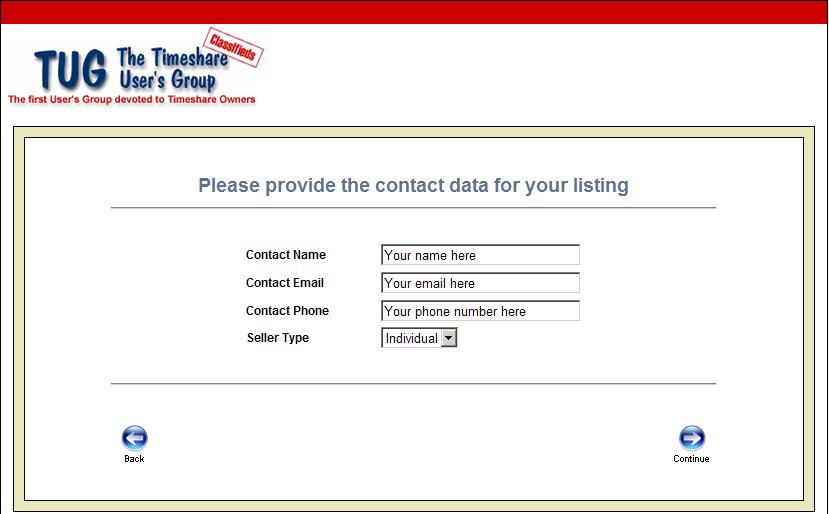 Step 6:
Choose the Specific Ad type
You must select either Fixed, Floating, Points
or Other (not intended for regular timeshare listings and will not show up in searches). If you are confused about what you own, check out this advice article for a better description on the different Timeshare types (or contact your resort):
Timesharing 101 Guide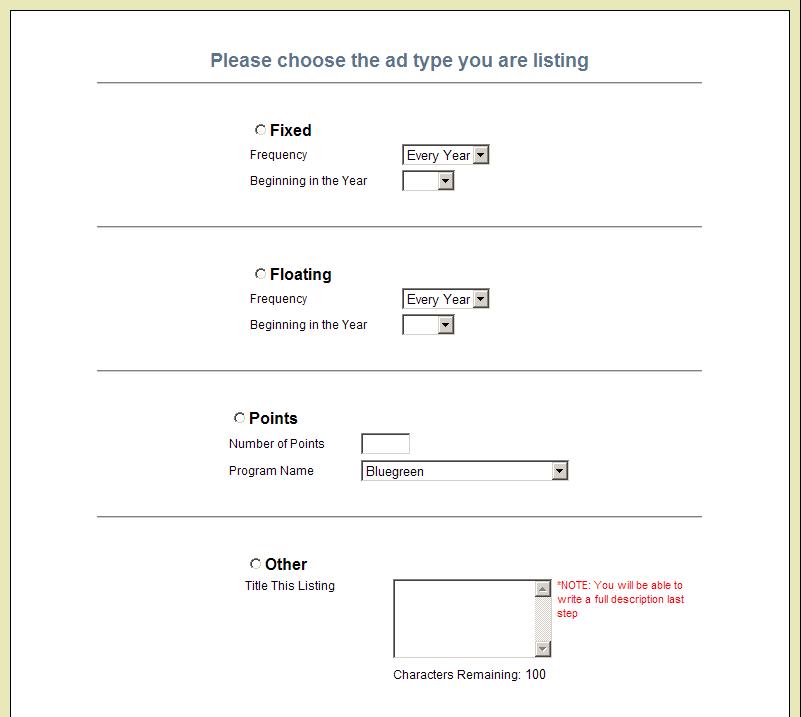 Step 7:

Choosing the Start week




If you are posting a fixed week, note this will be the only selection you make, as it is both the starting week available, and the ending week available.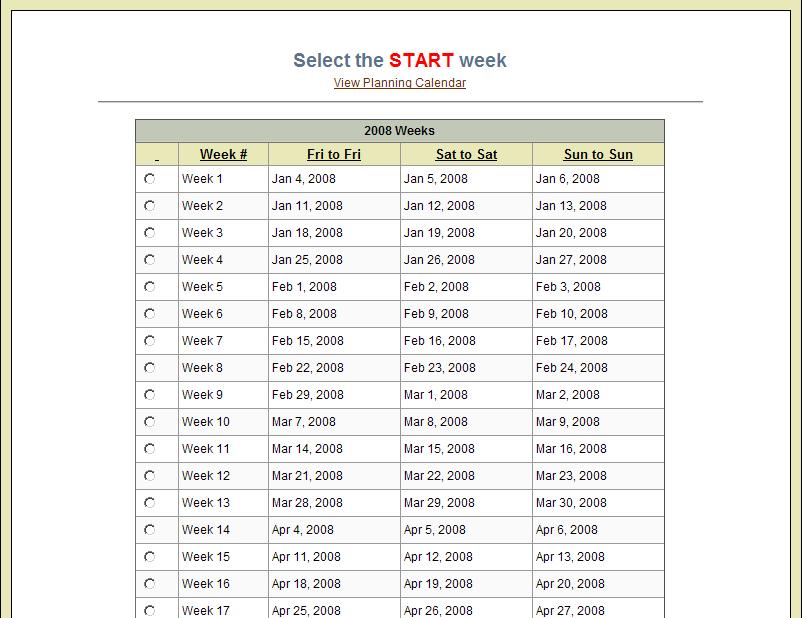 Step 8:
Choose the Check-in Day
Use this page to select the day available for check-in.


Step 9:
Find your Resort in the database
Enter in the resort name and click search. If you do not find your resort try entering in just a PART of the name and search again. Please note that if you do not spell the resort name EXACTLY as it is in the database, it will return no results, so less is more!


Step 10:
Select your resort from the results list
You will notice on the right side of the screen you must click "SELECT RESORT" to indicate the correct resort you wish to post an ad for.


Step 11:
Verify your Resort choice
note you can change the resort by clicking change resort in the left hand corner, or click "continue" to proceed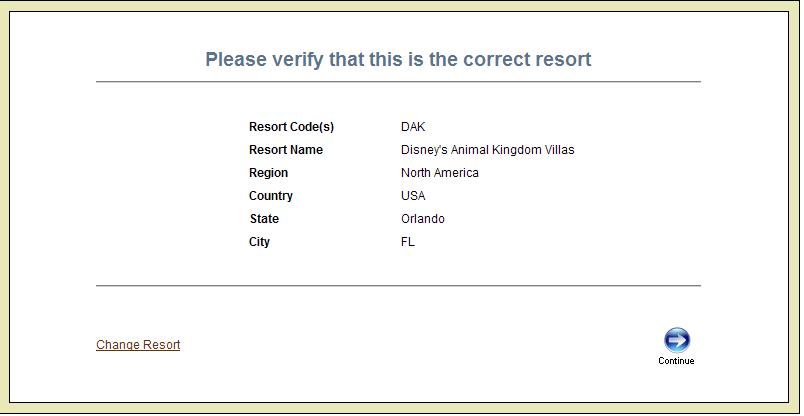 Step 12:
Enter your Sale price and yearly Maintenance Fees.
Please be sure you have read the
How to Sell your Timeshare
article before entering a sales price. The number one reason Timeshares go unsold or you get no interest in your ad, is that you have posted a resale price that is well above resale market value.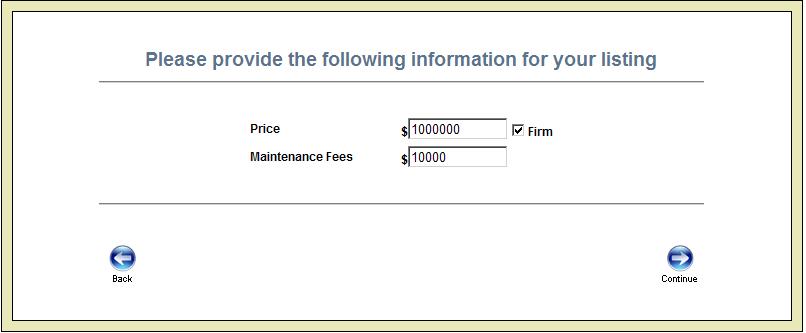 Step 13:
Provide the Details of your available Room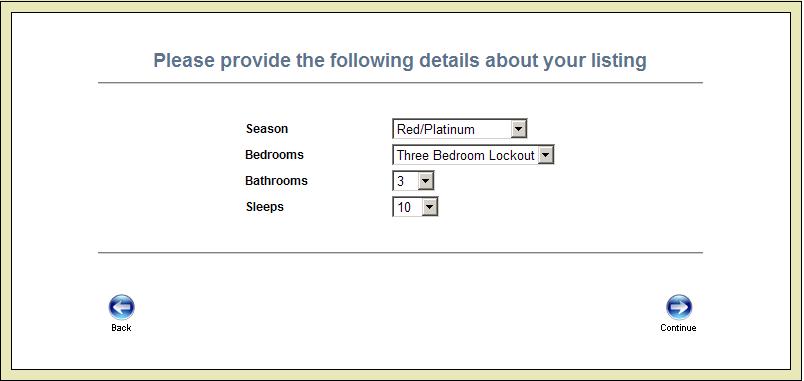 Step 14:
Type your ad description
The description here is completely up to you., Simply type in an appropriate description of the interval you are selling, and be sure to include any helpful tips or details that a potential buyer should know! (like you are offering to pay closing costs, or have already paid this/next years Maint. Fees)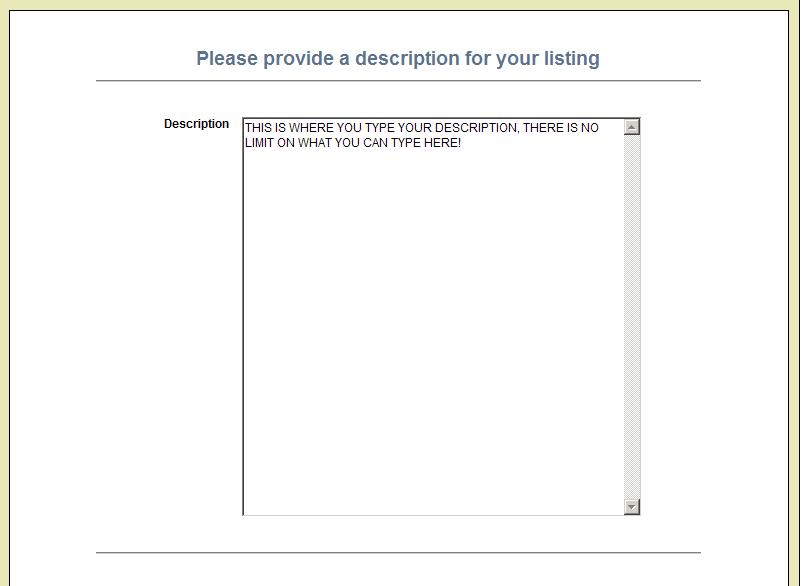 Step 15:
Review your listing
This page is a summary of your ad and allows you to edit any individual section by clicking "edit" on the right hand side. If complete, simply click to post the ad at the bottom of the page and you are done! Please note that all ads go into a pending queue before being published live on the site. This normally only takes a short time, but never more than 24 hours!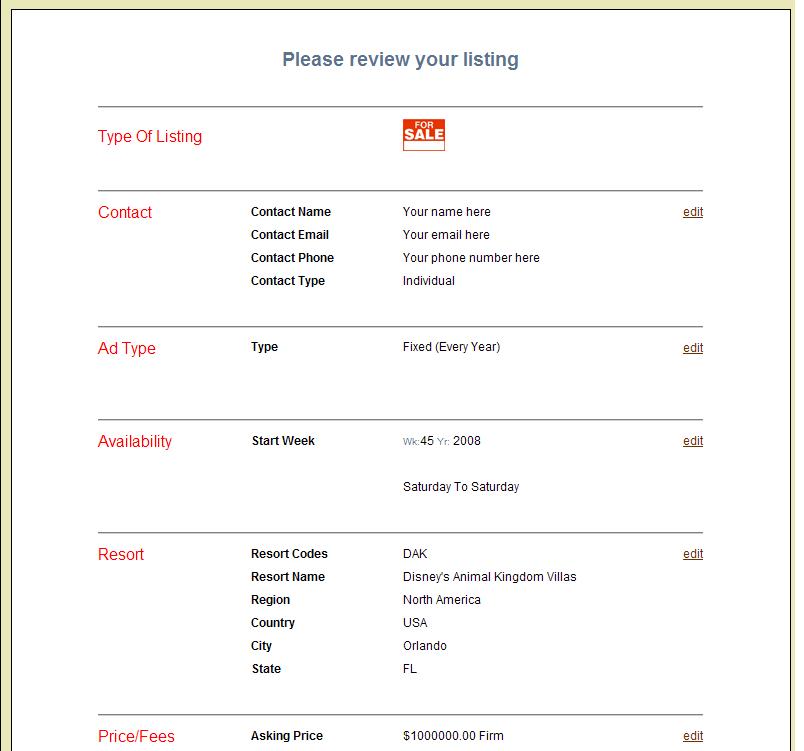 Step 16:
View your classified ads & Messages
After clicking submit at the bottom of the summary page, you are brought here displaying ALL of your ads ever posted in the marketplace.
This is also the page you are brought to when you click "Ads you placed" from the marketplace homepage! This is also what you will see when clicking "edit your existing ads / view your messages" at the Marketplace Homepage. All options for viewing messages, your ad, making changes, and marking it as sold/rented are available on the right hand side of the screen.


Step 17: Check back Regularly and respond to Messages!


One of our biggest complaints is individuals not responding to ad messages. It is very important to check back regularly to view your messages as many times our "notification" email will get trapped in spam filters or junk email folders and go unnoticed. This is the very reason we keep the original messages stored on TUG with your ad (it wont ever be deleted unless you click delete) and will remain there forever as a record!

Also be sure to mark your ads as sold or rented as applicable to ensure the accuracy of ads in the Marketplace! Note that ads by default will expire 90 days after posting if they are not renewed! You will get an email notification that your ad is about to expire within the next 10 days, and after logging back in you will see a new link allowing you to "extend your ad" an additional 90 days!


We hope this article helps you with posting ads in the TUG Timeshare Marketplace! Go post your ad today!


Feel free to stop by our
Timeshare Community Forums
if you want to ask specific questions, with more than 60,000 other Timeshare owners and experts, no question goes unanswered!