Free Timeshare Exchanges!
TUG Developed the Timeshare Marketplace in 2008 and it has become one of the largest and most popular places to List your Timeshare for sale and for rent, but many folks dont realize they can list their Timeshares for Exchange absolultely free!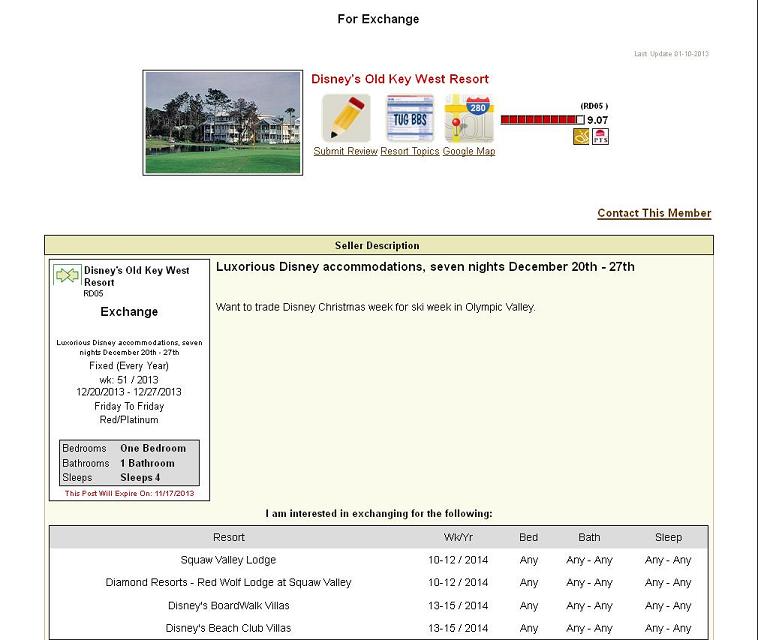 Nothing is free, whats the catch?


No Catch at all!

Firstly, to define the direct exchange program on TUG is quite simple. You are merely posting an exchange ad that lists the information about the timeshare interval you currently own and wish to trade for something else. You will also submit information about what sort of timeshare you are looking for in trade for the timeshare you currently own. Once this information is submitted in the system,

the marketplace will automatically notifiy you via email of any matches

or potential matches of ads that fit what you are looking for and or are looking for what you have listed!
There is no cost or obligation involved in this process, you are not depositing your timeshare week with TUG and are free to list it for rent/sale/exchange elsewhere on TUG or any other site as you see fit! All we are doing here is providing our members with the ability to find FREE exchanges within the TUG community. It is our hope that each and every TUGGER will submit their intervals regardless of if they have actually decided to exchange them or not, as you never know who might have that dream exchange you have been looking for but didnt realize it!
Sounds Fantastic, how do I post my potential Exchange?


In short, all you need to do is log into the TUG timeshare marketplace here: TUG Timeshare Exchange and place a new

Direct Exchange ad

listing what you own and what you are looking for in trade (optional). After that, you will begin to recieve email notifications of potential trades as they are submitted!


*Also note that during this process you can select that you are interested in Permanently Swapping the week you own with another owner for their week if that is something that interests you!
This link will take you directly to all the current Direct Exchange ads listed on TUG that are free to browse!