Unfortunately there is no easy answer to this question, and in fact the answer is of course going to be different for every single person who asks it. What we can provide you here at TUG to help you answer this question yourself, is listed below:
The TUG Sales History Database
Many moons ago one TUG volunteer took it upon himself to create a custom sales history database that TUGGERS could use to input the historical sale prices and information about their purchases and sales of timeshare weeks/intervals. As of 2007 this database had more than 2000 entries in it. Sadly the entries into this database dwindled significantly and it had not seen any significant new information in many years. Thusly it was time for a change!
In late 2007 TUG released its new member only system and with some other very impressive features included an integration within the resort review pages, is now a detailed Sales History tab allowing any and all TUGGERS to get a detailed view of all sales history records for that resort right on the review page itself.
On top of this, since we had released the Timeshare Marketplace at the same time, we now take the data from completed listings in the Timeshare Marketplace, and automatically populate the Sales History tabs for each resort as they are sold! This combined with the entries from some very hard working TUG volunteers and their careful tracking of EBAY completed listings, the TUG sales history database has more than doubled in size, and with hundreds of new entries each month...will quickly become the largest online Timeshare Sales History database ever!
Here is a screenshot example of a few sales history records for a popular Marriott Resort: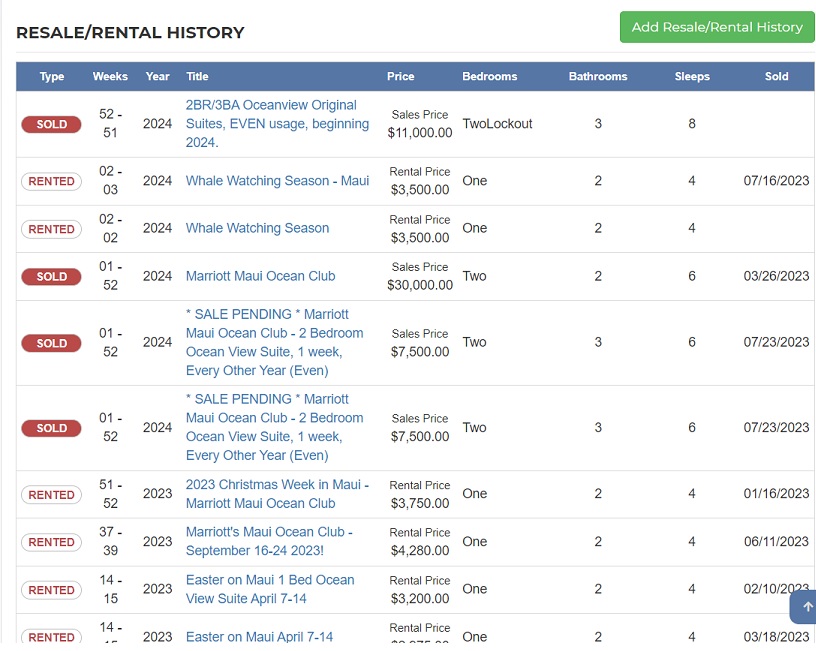 ---


This of course is just one of the features provided to TUG members with their membership! an invaluable tool in finding out what your timeshare is worth! To look at other sales history records, you can go here to search for your resort:



---
We do however realize that its simply not possible to have a large amount of sales history data for each of the 4000+ timeshare resorts around the world, it is in these situations that other methods must be used to obtain an accurate resale price for your timeshare, and in these situations...you should always refer to the How to Sell your Timeshare article here:


This is a detailed, step by step guide on how to get your timeshare sold yourself, for little or no cost to you...and more importantly...avoid being ripped off! This article discusses other options for obtaining an accurate resale price for your timeshare. This is a vital step in trying to sell your classified ad, as if you are attempting to sell your timeshare at an unreasonable price greatly above what other owners are listing the exact same thing for in the resale market, then you have little to no chance of selling your timeshare at all!
Sadly this is indeed one of the main reasons that timeshare owners experience EXTREME frustration in their attempts to sell their timeshare, as many simply just do not know how to accurately price their timeshare in the resale market! and of course another reason why we hear the phrase "I wish I would have found TUG earlier!"